Swim Lessons
COVID-19 UPDATE:  Our swim lesson program has been suspended indefinitely.
We are proud to offer swim lessons to both members and non-members of every age and ability.  Whether you're looking to introduce your infant to the water, ensure your school-age child is water-safe, or finally master your own stroke, our instructors,  Zach Byrum, Travis Kulcsar, and Kristi Eager are here to help.  Choose from private, semi-private and small group lessons, or parent-child classes for children under three and their caregivers.  For questions and scheduling, contact Zach or Travis via email or telephone/text [Travis: (540) 577-3306 ~ Zach: (901) 831-2313], or call the Club at (360) 331-2582.
Travis Kulcsar
Travis Kulcsar swam competitively for several private and public swim clubs in the Atlanta area from the age of 12-18, with practices ranging from 5-10 times per week. His favorite strokes are the Breaststroke and Butterfly. He mostly swam Fly and IM in competitions.  He began coaching various summer swim programs around the country and eventually found himself in the Northwest.  Travis specializes in coaching/teaching one-on-one!  He believes that working one-on-one with children allows him to truly listen to the child's needs and wants.  Travis served in the Navy from 2005-2009, doing tours in Afghanistan and Iraq.  He has been coaching the South Whidbey Stingrays for over 6 years.  He has also taught South Whidbey Parks and Recreation summer swim lessons.  In addition to coaching, he helps elderly with chores around their houses that they are unable to complete themselves.  When he is not coaching or helping the elderly, he is traveling and going to concerts.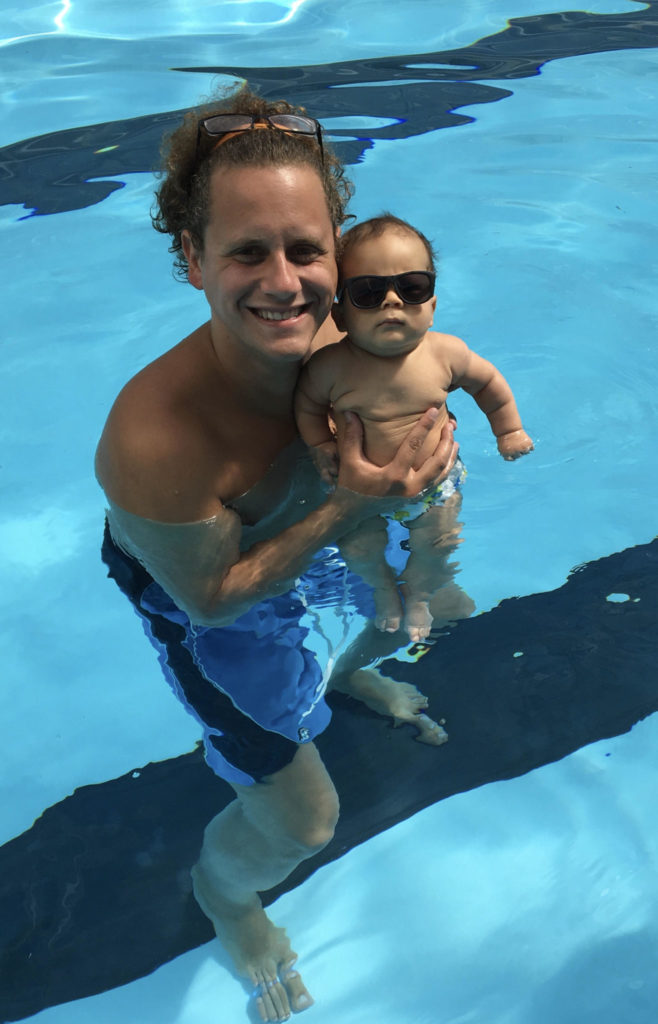 Zach Byrum
Zach has extensive knowledge in swim training and instruction. As a child and teenager, he swam in summer programs and year-round competitive swim teams. He has more than six years experience as a lifeguard, swim team coach, and swimming instructor, and he specializes in early childhood development, special needs aquatics programs, adult and senior lessons, and training for collegiate swim programs. He is excited to be a part of Island Athletic Club's amazing team, and hopes to see you in the pool soon.
What Zach's Clients Say:
"Both of our kids had lessons with Zach and hit it off with him right away. Our daughter (age 10) had basic swimming skills and Zach soon had her doing four different strokes, including butterfly! Our son (6) didn't feel entirely comfortable in the water until his lessons with Zach. Now he jumps off the side of the pool and swims on his own back to the wall. Zach even coached him through swimming an entire length of the pool and they are now working on his side breathing. Both kids love swimming with Zach!"
–Joey K.
"I just wanted to say how much we are loving the swim lessons. I feel like we've gotten way more than I even expected out of the lessons. We just finished our first round and have signed up for another set. Zach is experienced, confident and dedicated. He does a thorough job explaining WHY we do the lessons which really helps us when we practice outside of class.
This has been an awesome way to meet with other moms. It works with our lunch time and nap schedule, and I get time with friends too- woohoo!
I feel really good about taking swim lessons at the Club. I'm helping my child build confidence and safety skills in a way that is both challenging and playful.  I wanted to let you know how much we truly love our time together at lessons each week. As these guys get bigger they seem to need us less and less (not complaining!) so a chance to engage with them at something that is actually fun for me to is a welcome change."
–Bobbi M., Parent-Child Class
For anyone with any  degree of  phobia/anxiety as far as swimming is concerned, I recommend lessons with Zach.  Zach understands adult anxiety when it comes to being in the water, and is very thorough in explaining his methods and rationale.  He is enthusiastic and very encouraging .
I intend to sign up for more lessons with Zach …. at least until i can do the butterfly or reverse butterfly like those other ladies in the pool!
–Anna W.
"My 8-year-old son just adores Zach.  In the short amount of time my son has been with Zach, I have seen huge improvements in his swimming and his confidence.  Zach makes learning fun and at the same time knows when to ask more of him."
–Kali C.
"When my husband brought home the gym schedule of all the different classes available at Island Athletic Club, we were both interested in swim lessons for our then 3 month old son. We had both read articles on the benefits of teaching your child how to swim early and we both wanted to expose our son to this life long skill early. We purchased private lessons with Zach and could not have been happier.
Zach has so much experience teaching infants, children and adults, but we think he has a special talent for teaching infants and children. Zach was so amazing at not only keeping our son comfortable in the water, but also giving us the knowledge and the psychology behind each of the lessons.
The confidence our now 4 month old, has in the water is remarkable. We continue to take him to the pool and it is clear he enjoys being in the water. As he gets stronger, we know we will have a swimmer soon!
We highly recommend Zach to everyone, but especially younger swimmers."
–Chela S.
"My daughter (21-months) loves this swimming class, and I do too.  Teacher Zach is very knowledgeable and so understanding with the kids.  He knows what they are capable of and his confidence helps the children grow leaps and bounds with their swimming!  It's truly amazing.  We couldn't be more thrilled with the class."
–Sonya R., Parent-Child Class
CHILDREN'S LESSONS
Parent-Child Class – Infant to 3 years
Class size: Three to eight child-parent pairs
Length: Six – 30 minute classes
Member: $65 per parent-child pair
Non-member: $80 per parent-child pair
Semi-Private Class – 3 years and up
Class Size: Two  children
Length: Four – 30 minute classes
Member: $80 per child
Non-member: $95 per child
Private Class – 3 years and up
Class Size: One child
Length: Four – 30 minute classes
Member: $150
Non-member: $180
ADULT LESSONS
Semi-Private Class – Adult
Class Size: Two adults
Length: Four – 30 minute classes
Member: $80 per person
Non-member: $95 per person
Private Class – Adult
Class size: One adult
Length: Four – 30 minute classes
Member: $150
Non-member: $180