Massage –  Liz LeSure, LMT and Jodi Briscoe, LMT

Massage is an important part of a healthy, active lifestyle.  Click here to schedule your next appointment or give us a call at 331-2582.
We welcome both members and non-members to the massage table.
| Massage Type | Single Session Cost | 4-session Prepaid Program Cost |
| --- | --- | --- |
| 30-minute | $55 | $200 ($50/session) |
| 60-minute | $95 | $344 ($86/session) |
| 90-minute | $135 | $488 ($122/session) |
| | | |
| | | |
"No Show" Policy: If you schedule a Massage and fail to show up at the scheduled time without cancelling, you will be charged the full amount of the missed service.
Cancellation Policy: To avoid being charged for your scheduled Massage, cancellations must be made no later than the day prior to the scheduled service. "Day of" cancellations will be charged the full amount of the missed service.
Liz LeSure
Liz loves to customize each massage therapy session to her client's individual needs. She uses deep tissue massage to ease tension and release trigger points, using hands and forearms to promote relaxation and improve circulation and flexibility. Her goal is to facilitate relief from pain and stress lasting far beyond the session itself. With several years of experience, her training includes Hawaiian lomi lomi massage, prenatal massage, Swedish massage, and deep tissue techniques.
What Liz's clients say:
"She is a dependable, gifted, skilled professional. She always asks for an update on trouble areas before the massage session begins. She is very gentle with my delicate neck. She also does excellent foot work. My feet have never felt better. I highly recommend Liz! Every session is a slice of heaven."
-Denise F.
"As someone with fibromyalgia, massage has been a cornerstone of my health care routine for many years.  It helps effectively manage my joint pain and maintain mobility.  I have found Liz LeSure to be very responsive to my condition, and she quickly learned how best to meet my needs.  She offers a pleasant atmosphere (with lovely aromatherapy if you like!), caring demeanor, and a thoroughly professional manner.  I highly recommend both massage in general, and Liz in particular."
-Barbara K.
Liz LeSure, LMT:  WA License #MA60199573
Click here to book an appointment with Liz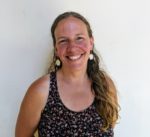 Jodi Briscoe
Jodi believes strongly in the natural healing abilities of the mind, body, and spirit of each person. Her goal is to enhance the lives of others by creating positive change though therapeutic touch. She uses elements of Swedish massage, deep tissue, myofascial techniques, passive stretching, and acupressure. Her intention is to achieve stress reduction, increased mobility, and relief from pain/discomfort.
Jodi Briscoe, LMT:  WA License #MA60083607
Massage and Exercise
by Liz LeSure
As we get older, our muscles and joints become more susceptible to damage from "wear and tear," so stretching and proper warm-up and warm-down become more important when you exercise. Regular massage is beneficial as part of your self-care program, including regular exercise with a proper warm-up and cool-down phase, choosing a low-impact version if needed, adequate gentle stretching, and drinking plenty of water.
Strenuous activity such as taking part in athletic events, or sporadic exercise without warming up, can tend to shorten the muscles and may even cause micro-tearing of muscle fibers. Massage stimulates the circulation and stretches muscle tissue, helping muscles recover faster and more completely. If you include regular massages as part of your self-care program, they can help you remain free of injuries.